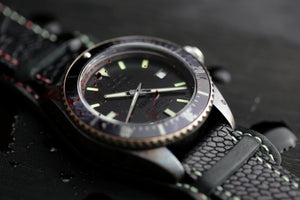 VAMPIRO
"Keep your eyes open
and lights on at night"
Halloween is approaching with costume parties, bonfires, carved pumpkins to make the famous jack-o'-lanterns, and the playful tradition, much loved by children, of "trick or treat". The night of October 31st is, for many,
also the occasion to dress up as a vampire. In black attire with pointed teeth protruding from their lips, this legendary being is recognizable for their black cloak with a purple lining. As dark as it is unsettling, this character, the subject of many popular beliefs, has inspired Out of Order in creating the Vampire model. The month chosen for the release of this new watch, made in only 50 pieces, could only be October, specifically
on 10.10, where the double ten aims to encourage stepping out of one's comfort zone and opening up to new beginnings, unleashing one's potential.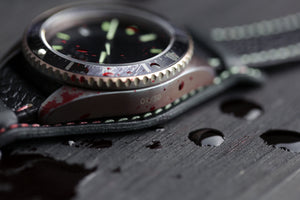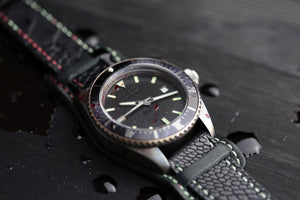 For the Vampire model, we confirm the solid aged 316L stainless steel according to our OOO® patent, which matches well with the matte black aluminum bezel. To ensure excellent readability even in low-light conditions, we've opted for an abundant use of SuperLumiNova C3 with green nighttime emission. With a 40-millimeter case and water-resistant up to 300 meters, the Vampire is powered by the Swiss Sellita SW200-1 caliber, an automatic movement with a customized rotor that can be observed through the transparent case back. The dial, featuring a double level, brings back a characteristic beloved by us and appreciated by customers all over the world: the engraved inner ring which, on this model, bears the inscription "Keep your eyes open and lights on at night". A sort of reminder, for those who wear it, to stay vigilant against those who, in disguise, try to "drain" our positive and vital energy, both day and night.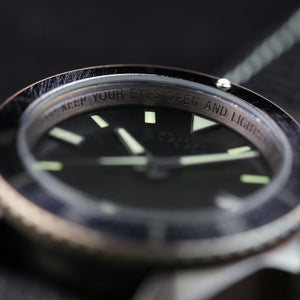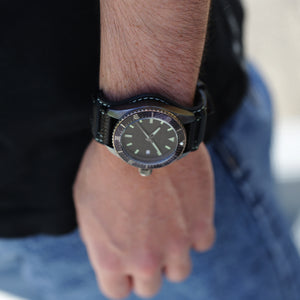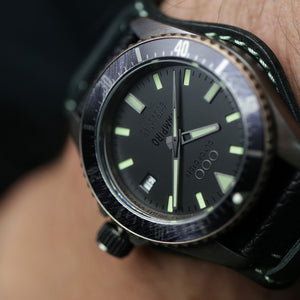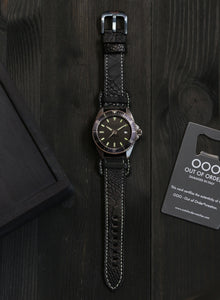 Style and History
Despite its name and chosen launch period, the Vampire is an everyday watch; it stands out without being intrusive. As for the strap, the choice falls on the "Winchester" model: an iconic model from the 80s and a "must-have" for the "paninari", a social phenomenon born in those years and centered on the city of Milan.
The "Winchester" strap of the Vampire, partially revisited to allow a view of the movement, is a 100% handmade product made in Italy and crafted from exquisite ostrich leather known for its unique "hill and valley" grain that gives it a three-dimensional appearance. The attention to detail that w reserve for our creations is also found in the colors chosen for the strap: black with contrasting light green stitching to match the green of the SuperLumiNova C3 on the upper part, while ruby red with stamped
Out of Order and Vampire logos at the bottom recalls the interior of the vampire's cloak.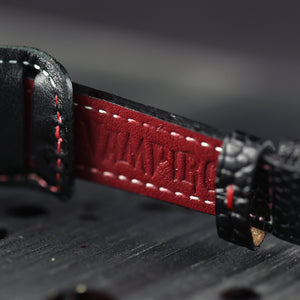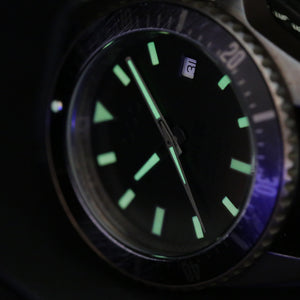 From 10.10, it's not just books, comics, movies, and video games dedicated to the Vampire but also a fully new, unique and inimitable OOO watch in Limited Edition.
Recommended
You might want to take a closer look.